mobiPad v1.0 public relase for S60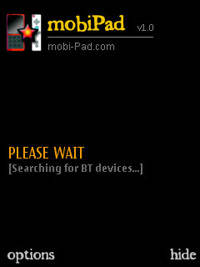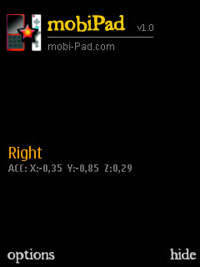 Finally! Now you can play all your favourite mobile games with an appropriate controller! mobiPad, the Bluetooth driver to connect the Nintendo Wiimote to a Symbian smartphone is availible for public download now – and even better – it's freeware!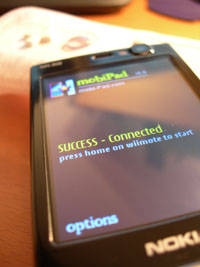 The good news won't stop! We have got mobiPad Symbian signed for you, this means you can directy download and install it on your phone, without messing around with certificate files! Big thanks to our What is mobiPad? Using mobiPad, you can control your entire mobile phone with the game controller of the Nintendo Wii (TM). Use it to play games or as a remote control for the media player on your S60 or UIQ device – the wireless gamepad is always an ergonomic way to interact. You can finally play standard games on touchscreen devices and no longer have to worry about buttons that are close together – and all this without buying a dedicated mobile games controller that you could not use for anything else! I've installed it – what now? Turn on Bluetooth on your phone and select "Discover Wiimote" in the mobiPad options menu. Instantly press the 1 and 2 button on the Wii remote at once (or the red "sync" button inside the battery case) untill the lights start to flash and keep flashing. To be sure the Wii console does not interfear, unplug it. Once mobiPad is connected it is ready to go. Which games are supported? All games that are coded neatly (tested on S60 Quake, Doom Legacy, vBag,…).
Most of the games provide a menu for customizing the keys. Which keys are emulated? Depends on the OS specific version: The mapping is designed for holding the remote crossways in two hands ('GameBoy style') with the d-pad facing to the left. A button – left function key B button – right function key + (PLUS) – enter – (MINUS) – escape home – sends app to background / brings it to front 1 – fire/select key 2 – keypad 0 (no action in s60 UI) directions – up down left right power – turns off wiimote
Info QUI